Yeah, that's right. I joined a flash mob.
Rehearsal!
It started with an invite from my dance class FB group (that's a story for another time). It was an open call to anyone who wanted to join a dance mob for ABS CBN. Me and one of my barkada (and an actual dancer), Uno Cayetano, thought "What the hell! Let's do it!". There's nothing to lose, just a unique experience to gain!
Practiced in small groups before doing it all together.
We practiced one Sunday morning, first week of May I think, at QC Circle. Then we had another rehearsal on the day of the flash mob, May 31, 2014. On that day, even more volunteers came! We were close to 200 or so.
Sponsored meals and media coverage!
The moves were simple enough. It was almost like a Zumba class. Everybody there was so lively and energetic and really game for anything! It's so fun, I might just join another project like this.
Performance Level!
It was organized by a group called
Project Awesome
. They're the local version of
Improv Anywhere
. If you aren't familiar, well they're groups who organize big social experiments in public places. Kind of hard to explain, so just check out their Facebook page
here
, or search them on YouTube so you have an idea on what they do.
The target time was 4pm. Around 2:30pm, it started drizzling. They were trying to keep the spirit up by saying rain or shine, we'd still go through with it. By 3, or 3:30pm, the rain turned to a storm! Thunder and sideways rain and all! But no one left. Not even our supporters - my girlfriend, Bett and Uno's girlfriend and family. Everyone stayed in Circle, waiting for the rain to stop. It did eventually. So by 5 we finally did the routine. Luckily, there were still other people there to watch.
The quiet afternoon is disturbed by a "medical emergency". Onlookers see how they can help.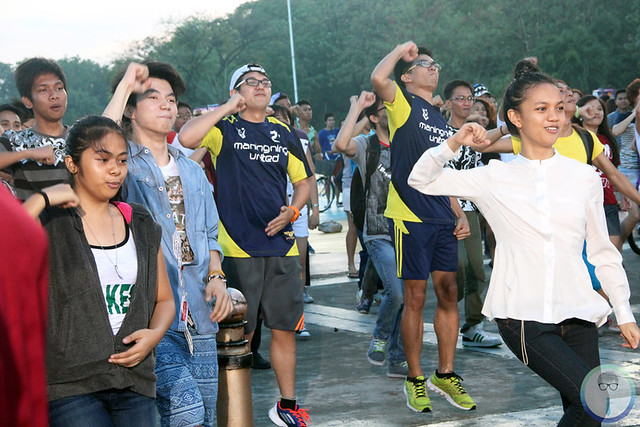 Then boom! Dancing happens!
We did two runs: one for the crowd, and another for the TV Patrol news crew. Everyone was in high spirits during both runs. After it all, that's when we felt the fatigue. Still though, it was a day to remember. Tons of fun, really great exercise and…MEDIA COVERAGE. Hahahaha! Uno and I wore the Football team jersey. We may not have been paid, but you can't put a price on free advertising!:)
The "televised" run was even more intense than the "crowd" run.
If we get the chance, we might just join again!
The crowd slowly disperses after the commotion.
* All pictures were taken by my girlfriend, Bettina Bacani. Check out her
blog
too!